They did it again – our amazing colleagues at HATS Group and Bluelight Services once again presented us with a very different kind of challenge! This time, the brief was to create Ambulance livery which would make children feel more at ease on their trips hospital.

The Brief
We all know how daunting a visit to hospital can be – even more so for children. All the strange smells, machines, noises and lights in an Ambulance can seem overwhelming for some and add some real anxiety to an already worrying time. The team at HATS Group started to think about how to alleviate some of these worries and make journeys to one NHS Trust as easy as possible.
Working with Bluelight Services, they came to us with the challenge and we immediately got to the drawing boards. As always, we worked very collaboratively with HATS Group and Bluelight Services, discussing ideas and concepts with them, presenting visuals and taking feedback on board. That's when the Aqualance was born!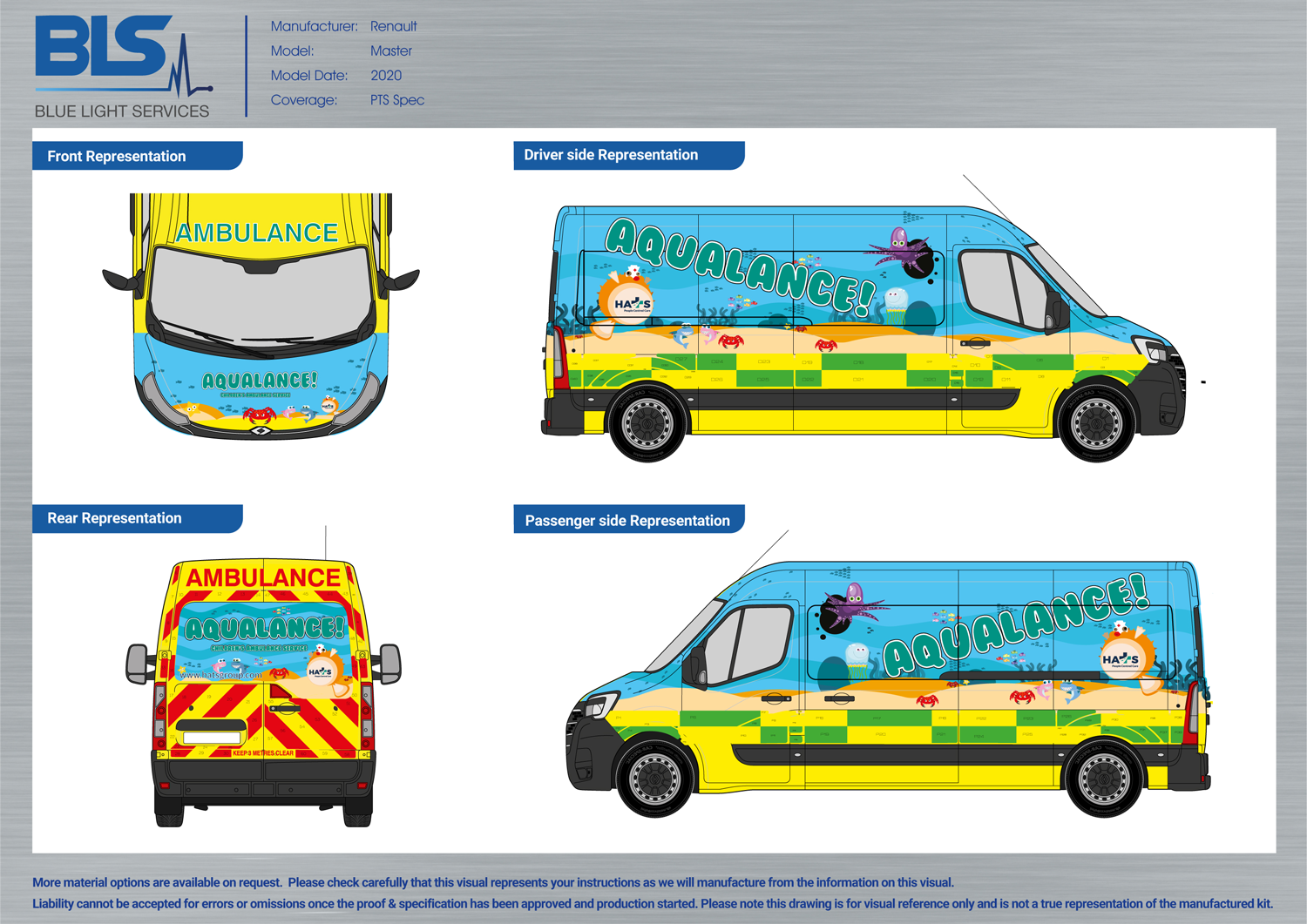 The Ambulance Livery
The livery for the ambulance needed to be bright, cheerful and friendly looking. Our designers presented an underwater theme and HATS Group and Bluelight Services loved it! The Ambulance livery design included some cheeky underwater characters alongside the required fluorescent and reflective markings.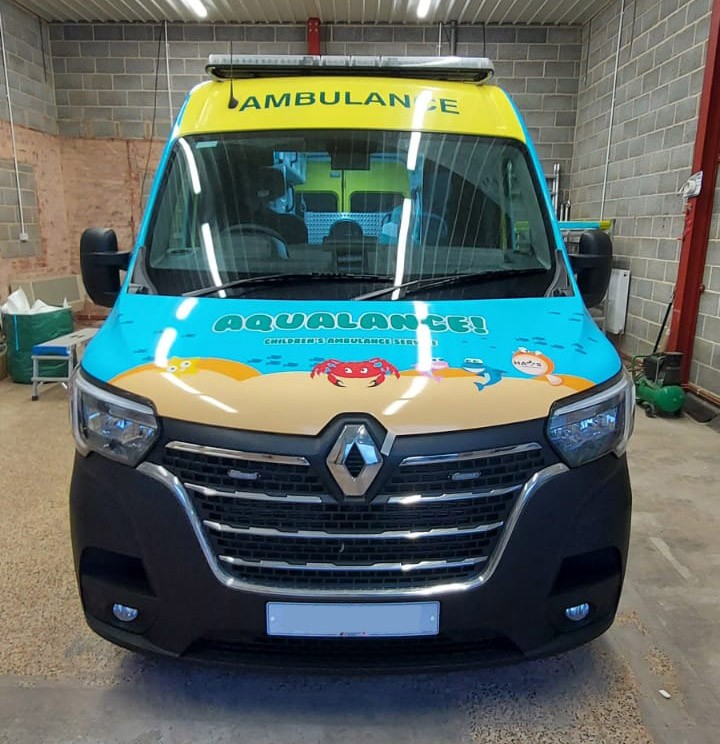 The Aqualance elements of the design were produced by printing onto vehicle wrap. This was applied to the bonnet and sides of the ambulance. In order to allow privacy to those inside the ambulance, printed window vision was applied to the side and rear windows. The printed elements of the livery fit really well with the side battenburg and rear Chapter 8 kit on the ambulance too.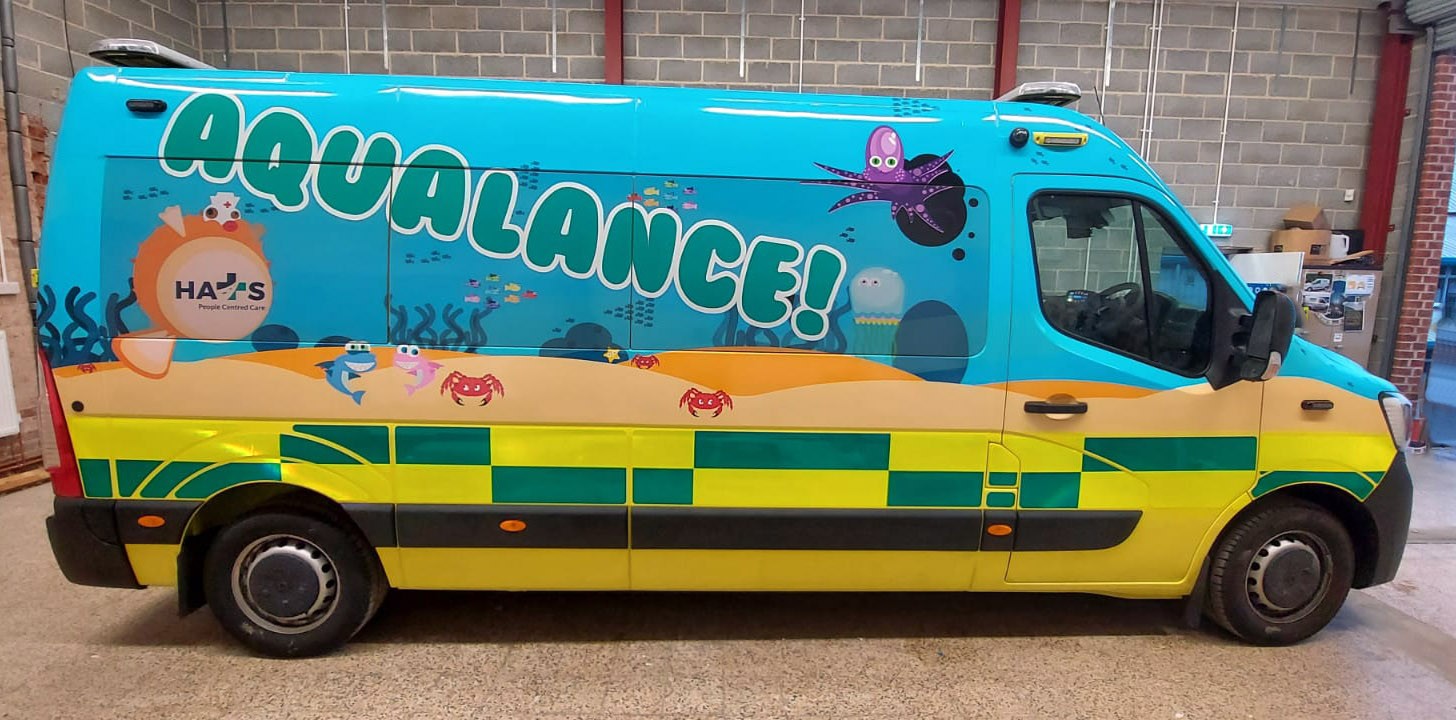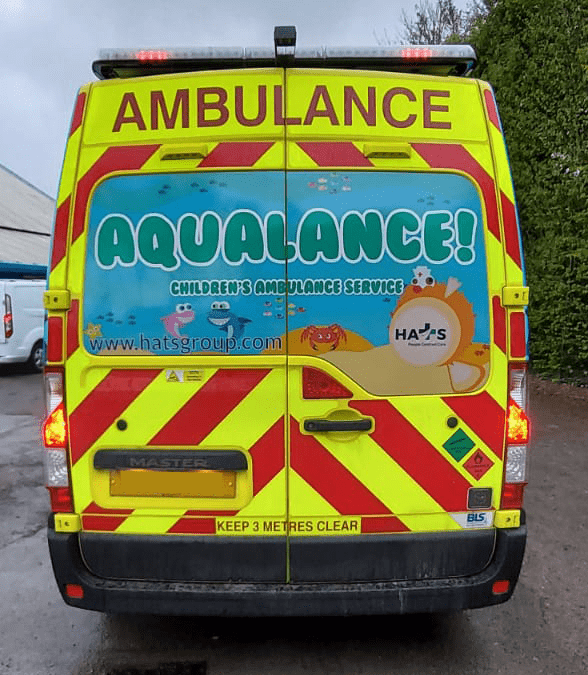 Feedback for the Aqualance…
HATS Group and Bluelight Services were really pleased with the finished result. But the most important people were the children that would be passengers in the Ambulance. Here's some fantastic feedback from one of these very special passengers…
https://www.bbc.co.uk/news/av/uk-england-london-59313029
The Aqualance is currently busy at work for Chelsea and Westminster Hospital NHS, transporting children to their appointments, with further children's ambulances well under way for another children's hospital.
We're hugely proud to be able to make a positive difference to children travelling to hospital. There are further projects in the pipeline with more ideas to help make this part of the experience a less troubling one. We're very much looking forward to creating more specialist ambulances with HATS Group and Bluelight Services.
If you have a requirement for emergency service livery, please don't hesitate in contacting our helpful team on 0344 2098775 or click here to let us know your requirements.