We've all seen the Highway Maintenance text on the back of works vehicles – usually accompanied by a Chapter 8 chevron kit too. This type of vehicle text lets other road users know exactly what type of vehicle is operating on the roads and what to expect from them. But what other types of vehicle text can you get?
The most popular vehicle text and possibly the most common you may see are as follows:
Highway Maintenance (Welsh) – Cynnal A Chaddw Priffyrd
All of these options are available as standard from Fleet ID – starting at £12.50 each – and are a fantastic add on for any Chapter 8 chevron kit. Available in two sizes (70mm cap height and 140mm cap height), these text options are supplied as black cad cut vinyl which is easily applied to your vehicle. Click here for vehicle text online.

Emergency Service Text
If you have an emergency service vehicle , you may be looking for something a little different. These could include Ambulance, Police or Fire text. No problem – we can also provide this along with your emergency vehicle livery kit. This type of text would usually be incorporated into the livery design, either on the bonnet, bulk head, sides and rear of the vehicle and is available in a range of materials.
Other types of messages may be required on emergency vehicles, such as 'keep 3 metres clear' on the rear of an Ambulance. This can also be supplied as part of your vehicle safety markings – just ask our team to include it when you order.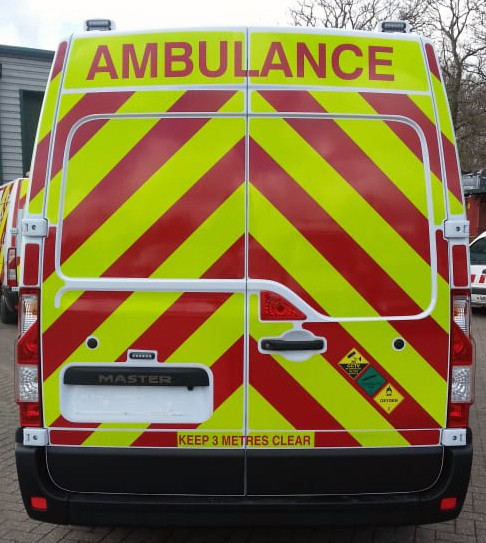 CCTV, compressed gas or Biohazard decals are also available. These are supplied as printed and cut labels to be easily added to the vehicle livery or rear Chapter 8 kit.
Fleet numbers
A popular request from our customer is for fleet vehicle numbers. These can be provided as ready to apply numbers, which are easy to add to your vehicle or can be fitted along with any other livery you have order from Fleet ID. If you require fleet numbers for your vehicles, get in touch today on 0344 2098775.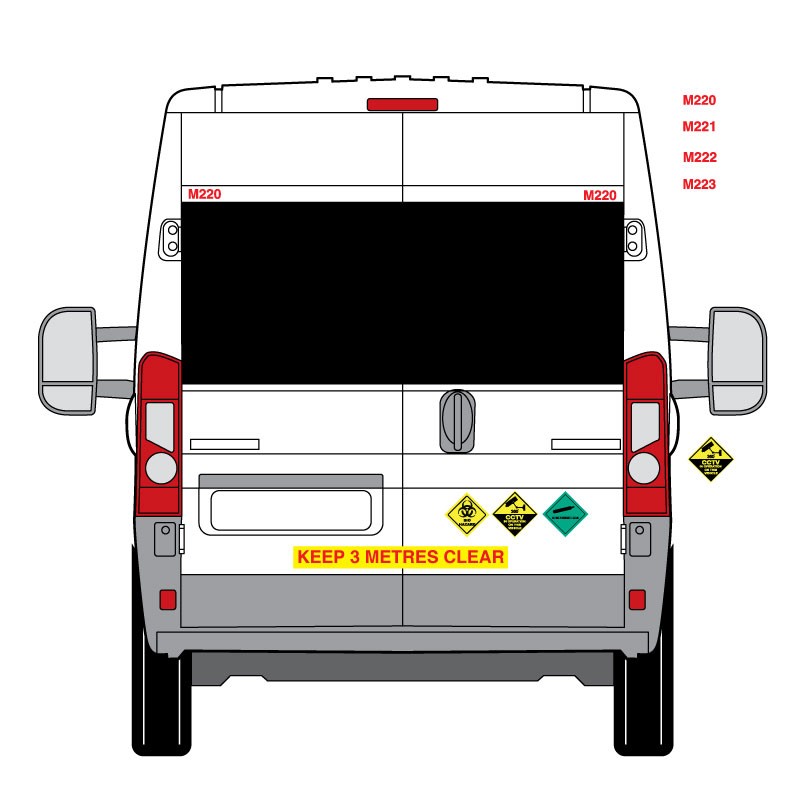 Fuel cap cover labelling
Possibly one of the most important aspects of some fleet livery is a fuel cap cover decal. When many different people are using many different vehicles, it can be a good idea to have this information available on the vehicle. A simple, clear message is all it needs to ensure correct fuelling up every time!
Window text
Some vehicles require text on the windows and this can be a popular requirement on vehicles such as ambulances and other emergency service vehicles. One of the most common ways to supply this is as cut vinyl lettering. Window text can also be printed onto window vision as part of your complete livery.
If you have a requirement for vehicle text for your fleet, we are here to help. We're able to produce any vehicle text at any size and produced in any compatible material. Call us today on 0344 2098875 or fill in this short form to let us know what you need today.