Emergency Vehicle Conspicuity Kits: Proven technology
It's a simple fact. High visibility markings on emergency vehicles save lives. Whether at the scene of an emergency, or speeding through the traffic to get there, it's essential that the emergency vehicles are quickly recognised and readily identified. So it's vital that your marking solutions work well at all times and in all weathers. This is as important many years down the line as on the first day that the markings are applied...
What do I need to know about emergency conspicuity livery?

Working with Derbyshire First Response.
We were contacted by the team at Derbyshire Fire & Rescue who were in need of their fleet marking with bespoke emergency livery. The kits were designed and fitted by the Fleet ID team to fit their vehicles.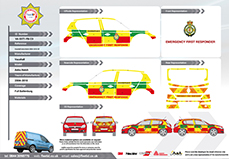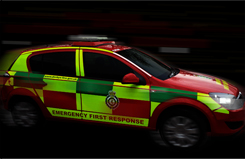 Customer testimonial:
"We were delighted with the quality of the product and design of the decals which were fitted to our Astra Co-Responder Vehicles. The service we received from the Fleet ID team was excellent, and the vehicles were ready for collection on time. We look forward to working with Fleet ID again in the future!" - Richard Wainright, Transport Manager, Derbyshire Fire & Rescue
Services we supplied:
Advisory Services
Full Design Service
Edge Sealed Reflective
Fitting
Quality Check
Quick Turnaround

Materials we used:
3M DG FL YELLOW (4083)
3M DG GREEN (4097)
3M DG RED (4092)
3M DG FL ORANGE (4084)