As an approved converter of 3M products, we're able to manufacture high quality reflective and fluorescent vehicle livery for any kind of fleet. But that's not all! We also supply a range of 3M products related to fleet livery, such as reflective side stripe rolls and tools for vehicle livery application.
3M reflective and fluorescent Chapter 8 kits
Looking for Chapter 8 kits for your fleet vehicles? Here at Fleet ID, we can supply all the Chapter 8 kits that you need, in any quantity you require. Our 3M Chapter 8 kits are manufactured from 3M Diamond Grade reflective material, coupled with 3M Saturn fluorescent yellow. These ready to apply Chapter 8 kits are available in a number of coverage types for large vehicles (full rear, half rear and full glazed) and in a number of application types too.
3M Diamond Grade reflective chevron kits supplied by Fleet ID Limited comply with the new Chapter 8 regulation of R3B and higher.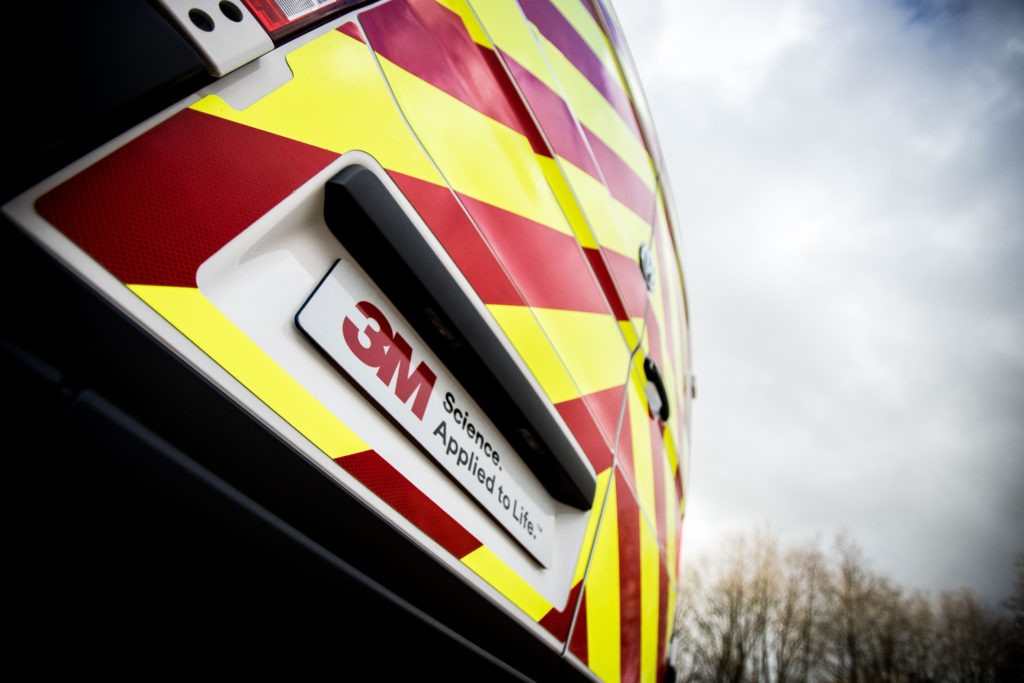 ---
Emergency vehicle kits
3M Diamond Grade is perfect for use for emergency vehicle kits. Whatever your emergency fleet – Police, Ambulance, Fire, Coastguard, etc – we have the reflective markings for you! 3M Diamond Grade emergency fleet livery kits offer high visibility and added safety for your workforce and to other road users.
3M Diamond Grade emergency service kits supplied by Fleet ID Limited comply with CAST high conspicuity livery (Home Office) for all emergency vehicle service use.
---
Reflective side stripes and ECE104 tape
For added vehicle safety with easy application, it doesn't get much more convenient than reflective side stripes! Side stripes are available to buy on the roll at specified widths and in a few different colours.
3M Conspicuity fluorescent yellow/green at 45.7m roll length, ready for application and trimming to size.
3M ECE104 tape is available in three colours – red, yellow and white – for rigid sided vehicles. Again, this is very easy to apply and trim to the length of the vehicle. Click here to see how easy it is to apply 3M ECE104 tape.
---
3M vehicle livery application products
During the application of vehicle livery, there are a whole host of products that help with the application process. Products such as 3M masking tape help to position vehicle livery before committing the livery to the vehicle with a squeegee. From only £1.40 per roll, this high-quality masking tape is a must have for your tool belt!
3M Knifeless Tape is specially designed for vehicle detailing. Knifeless tape removes the need for knives, creates clean trimmed lines and easily follows the contours of even the most challenging of vehicle bodywork. Find out more here.
Contact us today if you have any questions about the 3M products in our range, or if you have a requirement for fleet livery. Call us on 0344 2098775 or fill in this short form…