If you've heard about R3B rules related to conspicuity vehicle markings, you may be wondering what this means for you and your fleet. What is R3B? Who does it apply to? How do you make sure that your fleet livery complies?
Find out right here…
R3B in relation to rear chevron markings
Chapter 8 guidance has changed in relation to conspicuity vehicle markings.
The new guidance relates to fleets operating and stopping on roads with speed limits over 40MPH, as outlined in Chapter 8 of the Traffic Signs Manual. The reflectivity of the red now needs to be a minimum of R3B compliant or higher to meet the new standard and to ensure a higher grade of safety is achieved.
READ OUR FULL R3B GUIDANCE HERE
Does your fleet need R3B compliant markings?
If you have a fleet that requires rear chevron markings then this guidance applies to you. If your fleet operates and stops on roads with speed limits over 40MPH, the following applies to you:
Operating in England: R3B compliant rear conspicuity markings are strongly recommended in order to meet guidance.
Operating in Scotland and Wales: R3B compliant rear conspicuity markings are now a legal requirement.
The following image gives an idea of the difference in reflectivity between an R3B level red and an RA1 level red. This really illustrates the improved visibility afforded by R3B compliant level reflective materials.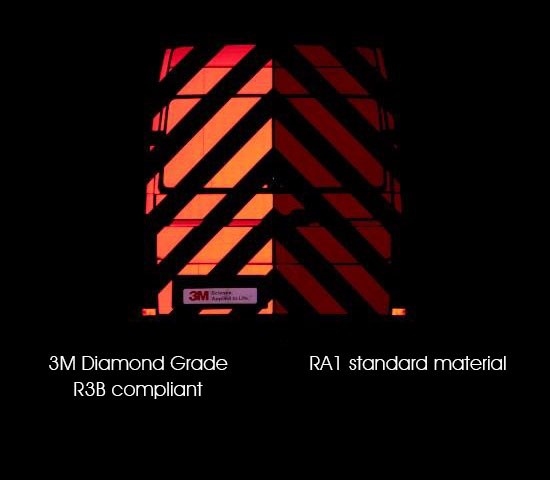 READ OUR FULL R3B GUIDANCE HERE
Keep your fleet covered with R3B compliant markings from Fleet ID
We supply R3B compliant rear chevron markings, along with compliant side markings, for all types of vehicle.

We manufacture R3B compliant Chapter 8 kits from the following materials.
3M Diamond Grade M Diamond Grade Microprismatic Red (4092) R3B
Nikkalite Chevron Crystal Grade Red R3B
Oralite 6900 Brilliant Grade Microprismatic Red (030) R3B
Aura 191 Metallised Red (0191T-02) R3B
They are available to buy for all vehicles shown online, but also if you have a vehicle that isn't shown on our makes page here, please get in touch as we're able to provide chevron markings for all vehicle makes and models.
Need to know more about R3B guidelines?
For more information about R3B guidelines please click here. Or give our helpful team a call today on 0344 2098775 or click here to let us know what you need for your fleet.