September is fast approaching and the buzz of excitement for ESS 2019 is building. This year we've got some fantastic new developments in Fleet markings and livery procurement, as our product range grows and we find more ways to help Fleet Managers' days run more smoothly.
Come to stand C13 and see how our services would best benefit your organisation – we'll be showcasing the services we offer to Police, Fire and Ambulance Services, as well as other Emergency sectors such as Mountain Rescue, Coastguard, National Blood Service and Rail Response.
Our services include:
Secure online management system with unique log in area – showing livery options bespoke to your business
Working with vehicle converters and fleet managers
Full warranties on materials and fitting of products
In house design team dedicated to your project
Fitting service throughout the UK and Europe
To visit the show click here – it's totally free to attend and visitor parking is free too (just show your visitor badge).
The main attractions on our stand in 2018 were undoubtedly the Renault Koleos (as seen below) and Kawasaki motorbike, all marked up with fluorescent and reflective markings, ready for action. We're certain that this year will not disappoint and we're looking forward to unveiling the stunning vehicle livery we have planned for the 2019 show. Don't forget to pop along to see the quality conspicuity markings and see how we could help your fleet be seen on the roads.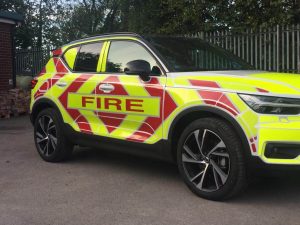 The Emergency Services Show is such a great place to see everything relating to the Emergency Services, from the road safety, fleet management and conspicuity services that we have to offer, right through to products for communications, uniform, emerging technology, equipment, public safety and training. Across the 2 days (18th and 19th September) there will be over 450 stands and a programme of seminars and demonstrations covering a wide range of topics. The Emergency Services Show is a great place to network and is totally free to visit. Click here to register for your tickets today.
Whether already a valued customer of ours or totally new to Fleet ID, you're guaranteed a warm welcome by our friendly and informative team on Stand C13. If you have any questions before the show, just call today on 0344 2098775 to discuss your requirements – we're ready to keep your fleet covered!
Don't forget to register for tickets to the show! Click here for free registration >